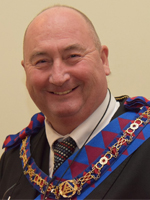 Phil was born on the 2nd August 1957 in Plymouth, Devon and in 1958 moved to and was raised in Paignton in Devon. He went to Paignton Boys Secondary Modern School and left school at 15. On leaving school, Phil served his time as an apprentice carpenter, qualifying in 1977. He worked in Iran (prior to the revolution) in 1978 before working his way up the managerial side of the construction industry where he still works today as a Senior Site Manager.
Phil moved to Hemel Hempstead in 1983 where he met his wife Liz and is father to four boys and grandfather to six grandchildren.
He was initiated into the Earl of Clarendon Lodge in May 1986 and was Worshipful Master in 1992 and 1995. He was appointed as Provincial Grand Standard Bearer in 1999, promoted PPGJD in 2002 and PPGSuptWks in 2009.
He was exalted into the Earl of Clarendon Chapter in 1988 and was MEZ in 1996 and 2001 and was appointed Provincial Grand Registrar in 2000, promoted to PPGSN in 2007 and appointed Provincial Deputy Grand Director of Ceremonies in 2009.
In 2013 Phil was appointed as Assistant Grand Director of Ceremonies in Supreme Grand Chapter.
Phil is currently a member of 6 different Chapters holding the office of Scribe E in two, DC in another and a founder member of Queens Oak Chapter.
In other orders Phil has been through the chairs of Mark, Mariner and Rose Croix and is currently Secretary of a Mark Lodge, Scribe of a Royal Ark Mariner Lodge and holds Provincial Active Rank in the Mark Degree as Provincial Assistant Grand Director of Ceremonies.
He also recently joined to KT to "widen" his experience of freemasonry!
Outside of Freemasonry, Phil is heavily involved in the Camping and Caravanning Club and lists his interests in Camping and Caravanning and listening to music.