R.W. Bro John Harbo, the Grand Master of Danish Craft |Freemasonry, accompanied by a large escort of Danish Freemasons, 38 in total, had travelled from Denmark to visit the Cloisters Chapter No. 7100 in Letchworth on the Saturday 4th February 2017, to witness the exaltation of three Danish Masons: W Bros Steen Jakobsen-Hansen, Arne Kristoffersen and Orla Jorgensen into the Holy Royal Arch. It should be mentioned that one of the candidates (Orla Jorgensen, age 81) had a lifelong wish to be Exalted but thought that it would never happen due the masonic circumstances in Denmark.  He was proposed and seconded by his two sons-in-law who are both members of Cloisters Chapter. The Most Excellent Grand Superintendent, E Comp James Sharpley, the Deputy Grand Superintendent, E Comp David Hampton, the 3rd Provincial Grand Principal, E Comp Phillip Masters and 15 other members of the Executive and Provincial team were in attendance fo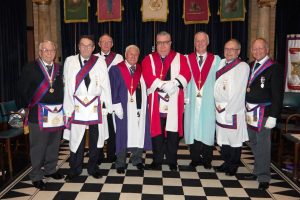 r this special occasion.  
The Danish MEZ Flemming Iversen invited another Dane, E. Comp. Ib Ravn-Aagaard PProvGStwd. Bucks, to take his place for the Ceremony of Exaltation, which was carried out flawlessly. Indeed, the Chapter Director of Ceremonies, E Comp Steve Bailey said it was one of the best ceremonies he had ever seen.
Another reason for this visit was to celebrate the many years of close relationships that have developed between English and Danish Freemasons. The event helped to strengthen the already close relationship between the Provincial Grand Chapter of Hertfordshire and the Danish Grand Lodge of Craft Masonry.
During the Convocation, the Most Excellent Grand Superintendent, E Comp James W. Sharpley, promoted E Comp Flemming Iversen (MEZ) to Past Provincial Grand Steward in recognition of his work in the Chapter but also for his efforts in building the relationship between the Province of Hertfordshire and Denmark. This 'Field Promotion' was obviously of great surprise to E Comp Flemming Iversen, who was warmly applauded by all the Companions present in recognition of his preferment.
Another surprise was the presentation by E Comp Ib Ravn-Aagaard and E Comp. Svend Jensen of a set of Sceptres for the Chapter in Esbjerg.  They were delivered in a magnificent presentation case specially manufactured by E Comp. Malcom Bage.  
On behalf of the Danish members of the Chapter E. Comp. Flemming Iversen presented engraved Tercentenary Jewels to John Harbo, Borge Holm, V.W. President of the Board of General Purposes and Steen Jacobsen-Hansen, W. Grand Secretary of Danish Craft Masonry in recognition of the work and progress they have made for the introduction of the Royal Arch into Denmark.
The luncheon following the Convocation had a Danish twist to it, with a traditional Prawn Cocktail, Akvavit, Roast Pork with sweet Red Cabbage and the tables were decorated with Union Jacks and Danish Flags. To commemorate the occasion, a new lapel pin had been produced as a symbol of the positive co-operation between Denmark and the Provincial Grand Chapter of Hertfordshire.