Around 80 Companions, including the entire Provincial Executive were at Halsey Masonic Hall, Cheshunt on Monday 20th November, to celebrate the Centenary of East Hertfordshire Chapter No. 3748. They witnessed a presentation of the Centenary Charter by the Grand Superintendent, following a masterful Oration by the 3rd Provincial Grand Principal, E. Comp. Philip Masters.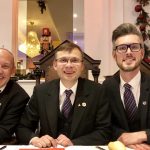 The Principals of the Chapter for the Centenary year, E. Comps. David Ames (Z), Paul Brimmicombe-Wood (H) and Steven Gordon-Wilson (J), were then installed by their predecessors in a splendid ceremony, and all those present sat down to a suitably Festive Board of smoked salmon, roast turkey and lemon meringue pie. Appropriate quantities of red and white wine were consumed to aid the digestion.
East Hertfordshire Chapter was consecrated in 1917, and sponsored by the East Hertfordshire Lodge. Following a number of years meeting at various venues in London, the Chapter moved to its current home in Cheshunt, but in the process lost touch with the original Lodge. After 77 years, the two units have now been reunited, and the first candidate from East Herts Lodge since 1940 will be exalted into East Hertfordshire Chapter in April 2018; the members of both units look forward to another long and happy association.