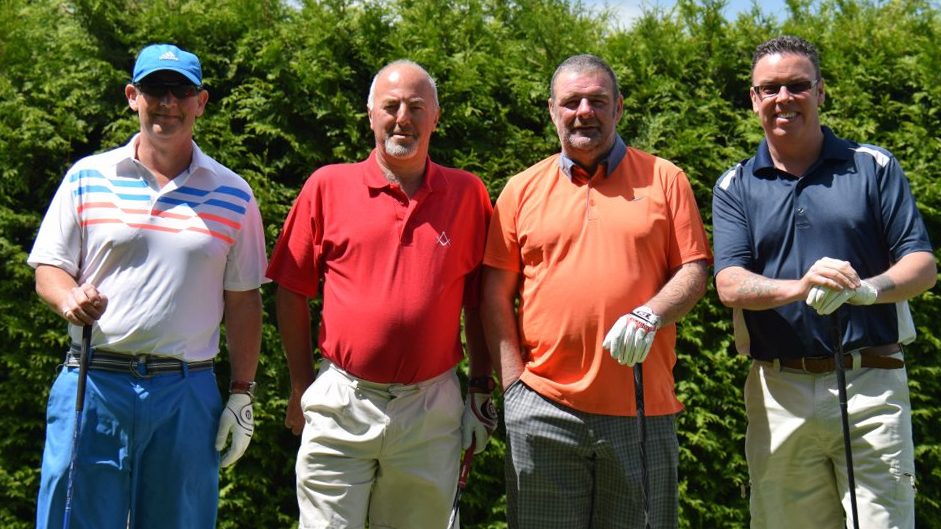 Redbourn Golf Club
Kinsbourne Green Lane, Redbourn,
St. Albans. AL3 7QA
START FROM FIRST AND TENTH TEES AT (subject to final numbers) :- 12 noon
This is a prestigious and very popular event and is open principally to all Hertfordshire Royal Arch Masons but also to all other Freemasons and their guests whether they be Freemasons or non-masons. Indeed we would actively encourage you to invite your golfing chums. Following on from previous years' successes with our first Lady player, we would like to encourage other Ladies to participate.
The entry fee is £60 per person which includes coffee and a bacon roll served from 10am, 18 holes of golf and a two course presentation dinner in the evening, where our ME Grand Superintendent James Sharpley will be on hand to present the prizes. You will be aware of the new handicap system and we need you to log your NEW National handicap on the entry form. For those who are unaware of the new system then enter your "old" handicap and Gerry Greenland will be in touch with you prior to the event to ensure that your handicap is correctly converted for Redbourn.
Players will be playing for The Alec Fuller Trophy (best individual score), the Sidney Tuck Trophy (for the Chapter with the best pair) and the Ian Clift Royal Arch Golf Memorial Trophy (best aggregate score on the par threes). There will be at least 9 other prizes to be won thereby enabling a significant number of players an opportunity to go home with something! For the avoidance of doubt the three Trophies are available only to Hertfordshire Royal Arch Masons whilst all the other prizes are available to all players.
Wives, partners and any non-golfing masons and their partners are most welcome and indeed encouraged to join us at the evening festivities at a cost of £25 per person. The evening arrangements are a 5.45pm reception for a 6.15pm meal. Dress code for the Gentlemen is Jacket and tie. A raffle and auction will be held, the proceeds of which plus any surplus on the sale of golfing entries will be donated the Grand Charity Ukraine Crisis Appeal Fund.
Buggies are available for hire at a cost of £25 (Payable on the day). Availability is limited and reservations will be accepted on a first come first served basis. Reservations for buggies can only be accepted if they are indicated on the booking form. Please do not contact the Golf Club directly this will only cause confusion and may result in you not being allocated a buggy.
We hope that you all have a wonderful day among companions and friends and remember it is better to have played and lost than not to have played at all. We look forward to seeing as many of you as possible on the day.
Organising Committee
Peter Cox
Tel 01582 626391
peter.cox73@ntlworld.com
Gerry Greenland
Tel 01582 794965
gfg28863@btinternet.com