On 12th December 2018, E. Comp David Enock celebrated 50 years in Craft Masonry and on 26th November 2019, celebrated his 50 years in the Holy Royal Arch.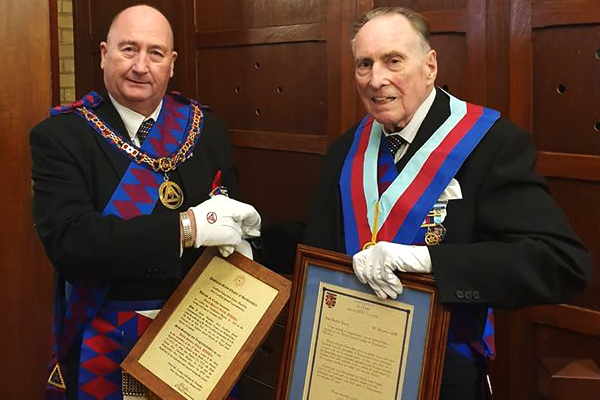 David was initiated into Tetrahedron Lodge No 5161 in London on 12th December 1968 and was its Master in 1977. In Hertfordshire, he joined Godfrey Kent Lodge No 9375 in 2004 and served as its Chaplain for six years from 2007. In London he achieved London Grand Rank in 1987, and Senior London Grand Rank in 1996.
His love of Masonry however, has been the Royal Arch having been exalted into Tetrahedron Chapter No 5161 on 26th November 1969, less than 12 months after his initiation.
He was its MEZ for the first time in 1981 and in Hertfordshire, was a founding member of Hooks Cross Chapter No 8705 in 1986 and MEZ in 1987 and again in 2011. He was a joining member of Hertfordshire First Principals Chapter No 4090, where he served as 2nd Principal in 2009. He also joined High Barnet First Principals Chapter No 8746, where he served as Scribe N in 2016 and White Star Chapter No 8727 where he served as Principal Sojourner in 2014.
In the Royal Arch Province of Hertfordshire, he was first honoured with PProvDepGReg in 1991, with PProvGSN in 1998, as Provincial Assistant Grand Scribe E in 2002, Provincial Deputy Grand Scribe E in 2005 and finally as Provincial Grand Treasurer in 2007, a post he held for eight years.
He was honoured in Supreme Grand Chapter by being appointed as PAGDC in 2004 and promoted to PAGSoj in 2012, So not only achieving 50 years in both Craft and Royal Arch, he has have kept himself active in all those years and on Friday 20th December 2019, at Hooks Cross Chapter, the Second Provincial Grand Principal, E. Comp. Phil Masters presented E. Comp. David with his Craft and Royal Arch Certificates, stating how grateful we all were for his long and valued contribution to Freemasonry in general, which was met with spontaneous and raptuous applause.