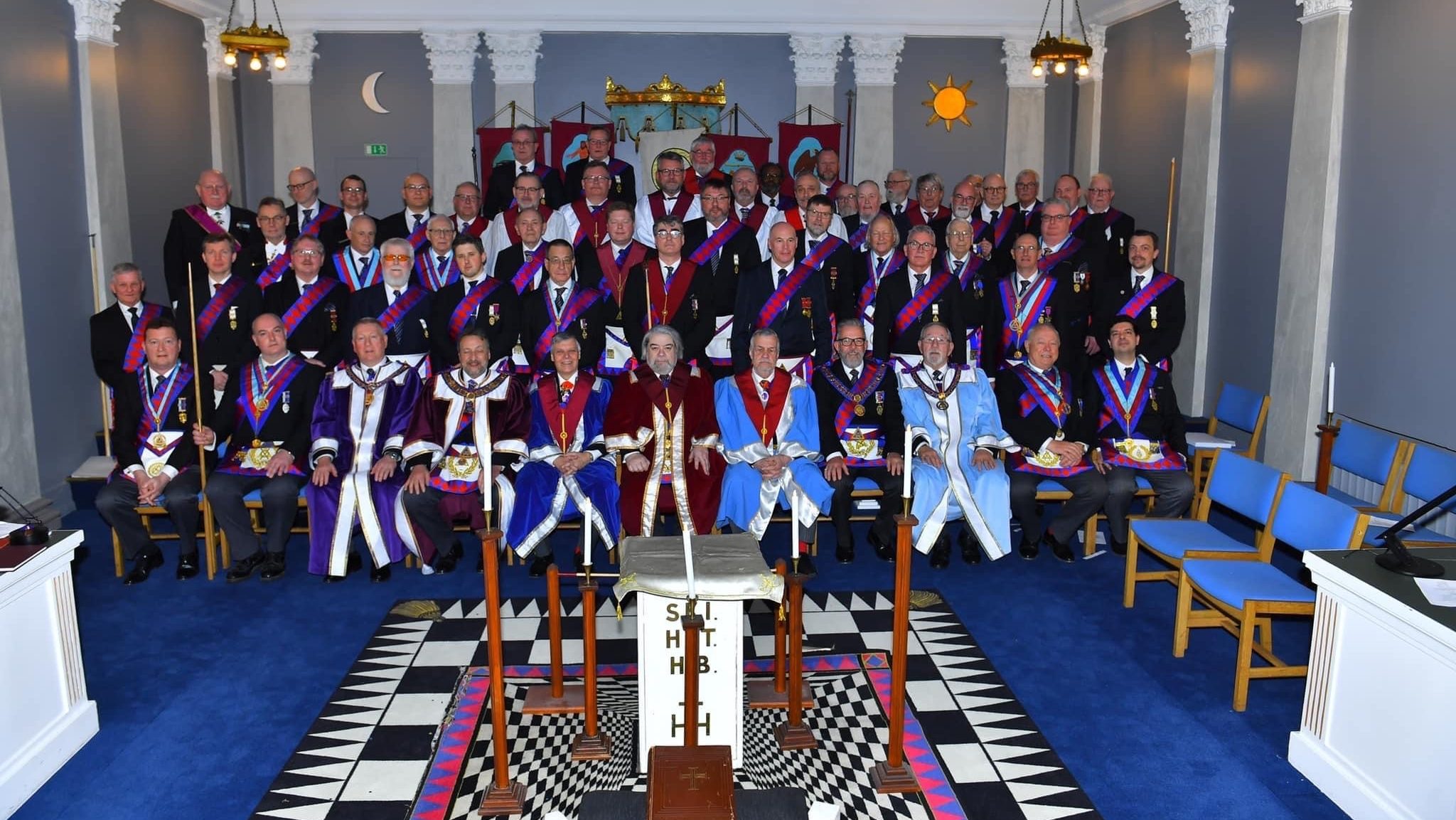 The strong association between Hertfordshire Royal Arch and Denmark continues.
Following approval of the Committee of General Purposes of Supreme Grand Chapter,
Ravenscroft Chapter No. 2331, consecrated in October 1925, was transferred from Radlett, Hertfordshire to Copenhagen, Denmark. This is the fourth Chapter to transfer to Denmark.
Saturday 12th March 2022 saw the inaugural meeting of this Chapter in Copenhagen.
The intention had been that Walter Schwartz, Grand Master of Denmark, would pass through two Principals chairs in one meeting and be installed as First Principal of the Chapter.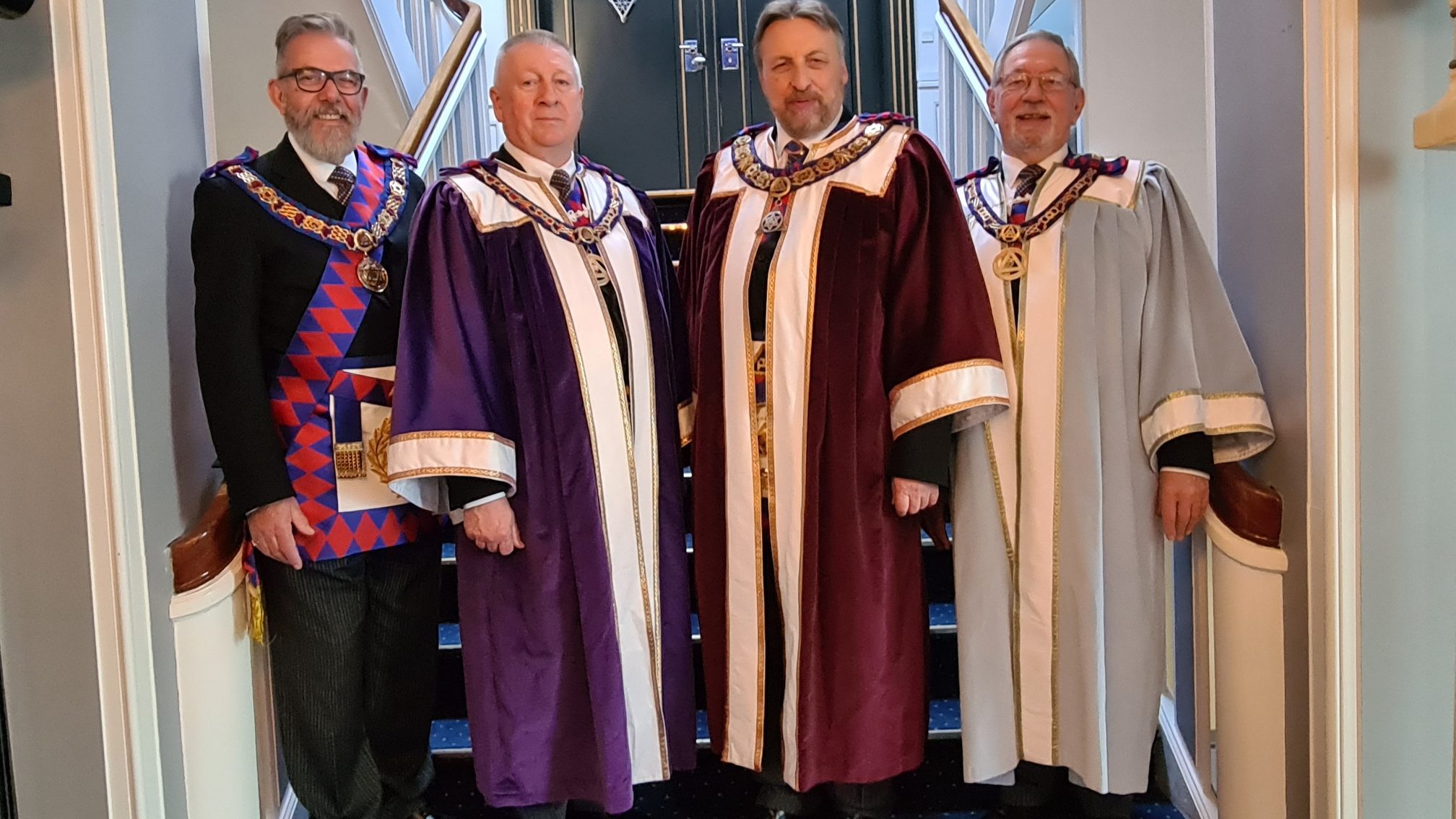 He would then be joined by John Harbo (M.W Past Deputy Grand Master of The Danish Craft Masonry of Ancient, Free and Accepted Masons) and Borge Holm (R.W. Past Senior Grand Warden of The Danish Craft Masonry of Ancient, Free and Accepted Masons) in the two remaining Principal's offices.
This was a further, important step in preparation for the eventual consecration of a Supreme Grand Chapter of Denmark.
A large delegation from Hertfordshire travelled to Denmark for this special occasion. Headed by the Most Excellent Grand Superintendent, James Sharpley, the full list of those attending is below.
As a reminder of these Covid times (as if one were needed) the Provincial party were en-route to Denmark when Walter Schwartz tested positive and had to withdraw. In fact the UK party were already one down due to an earlier positive test.
The Provincial Executive conducted the ceremony. E Comp Hans Madsen said afterwards;
'Your work is probably the most beautiful ritual work we have experienced to date on Danish soil. We have something to live up to before we create the Danish Grand Chapter next year'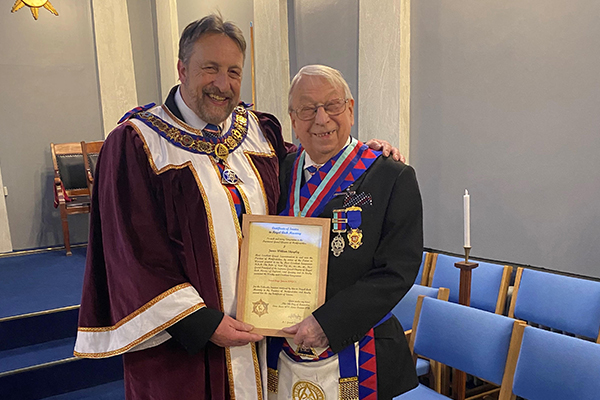 The meeting also saw the presentation by the Grand Superintendent to E Comp Svend Jenson of a Certificate of Service to Royal Arch Masonry in recognition of his long and dedicated Royal Arch Masonic career. In doing so, he thanked Svend for all his hard work in bringing about the Danish Royal Arch connection, which started back in 1998. Read more here.
The visiting party were during the weekend given a tour of the Grand Lodge of Denmark Headquarters building in Copenhagen. This gave some insight into the Swedish Rite, to which Danish Royal Arch will eventually be connected.
As James Angus later commented: "What I saw, and experienced, was an illumination. Freemasonry exists as an initiatory rite, and there can be no doubt the 'rooms' and 'circumstances' your Temples provide, must have a profound effect upon the candidates".
The meeting also saw the current Provincial Grand Director of Ceremonies in the company of two of his predecessors. Read more here.
The visitors were unanimous in their praise of their Danish hosts for the warmth of their welcome and the hospitality shown to the whole of the Provincial team. An excellent weekend was enjoyed by all.
The UK delegation:
Most Excellent Grand Superintendent, James Sharpley
Deputy Grand Superintendent, David Hampton
Second Provincial Grand Principal, Robert Asser
Third Provincial Grand Principal, Rod Kent
Provincial Grand Scribe Ezra, David Broomer (Scribe E of the Chapter),
Provincial Grand Treasurer, Tim Huckle (Treasurer of the Chapter)
Provincial Grand Director of Ceremonies, James Angus
Provincial Grand Janitor, Jon Lydon
Comp Clement Lawford (Scribe N of the Chapter)
Provincial Assistant Grand Scribe E, Iain Green
E Comp Paul Ostwind (MEZ of the Chapter),
And E Comps, Alan Withey and John Young