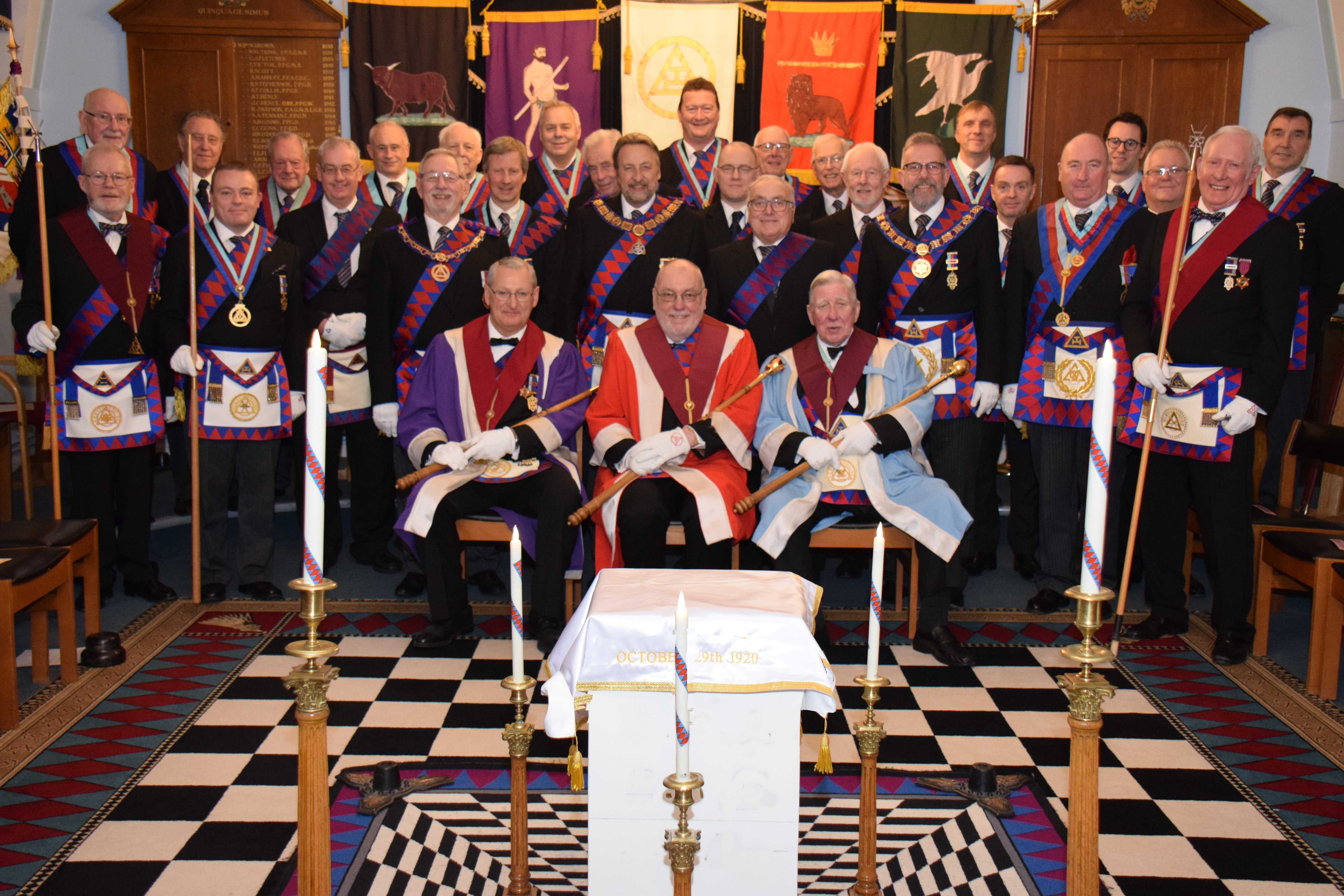 The Centenary meeting of Sprig of Acacia Chapter, which was cancelled in October 2020, finally took place in Radlett on the 18th December 2021.
The three Principals, E Comps Colin Seymour, Steven Raison and James Innes were joined by forty one Companions; 17 were members of the Chapter, 15 were visitors and there were 9 Provincial Grand Officers, The Most Excellent Grand Superintendent, James Sharpley, was accompanied by his Deputy, David Hampton and the Third Provincial Grand Principal, Rod Kent.
Also in attendance were the Assistant Provincial Grand Scribe E Iain Green and the Deputy Grand Director of Ceremonies Jason Roberts, together with Provincial Grand Standard Bearers Tim Bingle and Roger Saunders, Tom Golds Provincial Grand Steward and Jon Lydon, the Provincial Grand Janitor.
Distinguished visitors included E Comp Phillip Masters, the Past Provincial Second Grand Principal.
The Most Excellent Grand Superintendent was warmly received into the Chapter, accepting the Sceptre and taking his place as First Principal. He then requested officers of the Province act as H, J, and Scribe Ezra.
Following the Consecration Charter of the 29th October 1920 being displayed by the Principals of the Chapter, Rod Kent then delivered a most thoughtful and rewarding Oration.
The Centenary Charter was received, and being "in order" was read by out by the Scribe E.
The Principals of the Chapter then received the Charter from the Grand Superintendent. Centenary jewels were presented and the Companions were requested to display their jewels, which was well received by all those attending.
E Comp David Sheppard then read a complete history of the Chapter.
The Chapter was Called Off for photographs to be taken to record this special occasion, following which it resumed for the Chapter Installation Meeting to take place.
The Companions then retired to a superb Festive Board, each being given a booklet regarding the first hundred years of the Chapter and a gift marking the Centenary.